Sisterhood
Sisterhood
Sisterhood of Temple Beth Am is a friendly, caring, inclusive community of women who support TBA and its many programs and activities. Benefits include a members-only directory, annual membership luncheon, birthday lunch out, and fun times with wonderful women friends. We are not your mother's Sisterhood. New Temple members get first year's Sisterhood membership FREE!
For more information contact Maril Levy maril@family-levy.com or call the Temple at 561.747.1109.
If you'd like to download and print your 2019-2020 Sisterhood Membership Form, click here.
Click here to see samples of Bima Flowers if you'd like to sponsor them and click here for the flowers form.
Recurring Events:
Monthly Meetings at Temple Beth Am
First Tuesday of each month at 1:00pm
Sisterhood Meetings are held on the first Tuesday of each month, at 1:00pm at TBA. The Board follows a monthly agenda, planning activities and supporting TBA, with input from the membership. Please join your sisters by becoming active and attending. Bring your ideas, suggestions, opinions and your desire to participate, as you work with friends old and new to strengthen TBA Sisterhood.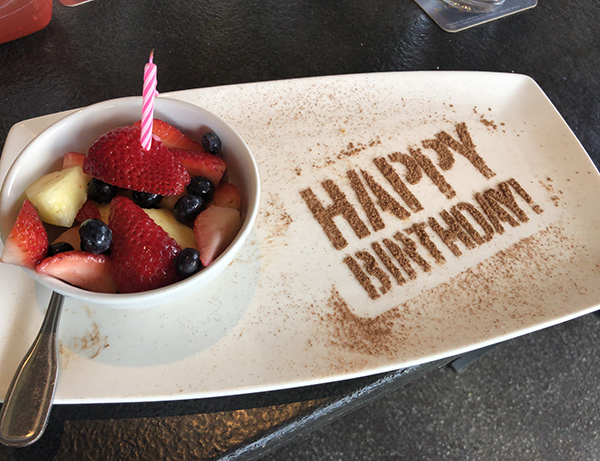 Monthly Lunches Out
Third Tuesday of each month at 12:00pm
We're reviving a delicious, fun, TBA Sisterhood tradition! We'll meet at a local restaurant to eat, drink and chat with friends old and new. Simply order whatever you'd like from the menu and pay your own bill (separate checks). But, if it's your birthday month, it's Sisterhood's treat! Please RSVP to Carole Levine at 561.339.3909 or jptrcaro@comcast.net by the day before (and be sure to let her know if your birthday is in that month!).

Upcoming Sisterhood Fun:
Norton Museum Tour (Georgia O'Keefe Exhibit)
Friday, January 24
On Friday, January 24, we are going to the Norton Museum of Art in West Palm Beach for a 10:30am tour of the special Georgia O'Keefe Living Modern exhibit. Though admission is free on Friday, there is a $10pp charge for the docent-led tour. We will eat lunch at the museum cafe (optional) after the tour. Separate checks, but they request cash (no credit cards) whenever there's a big group. RSVP and tour pre-payment to Carole Levine by January 20.
Sisterhood Shabbat
Friday, March 6
Invite your family and friends for this special Shabbat including an enhanced oneg courtesy of Sisterhood.
Boca Museum Tour (Self-Portraits from the National Gallery of Art)
Tuesday, April 21
We are going to the Boca Museum of Art for a tour of a very special exhibit: Self-Portraits from the National Gallery of Art. We'll be going out for lunch after our museum visit, at the Yard House in Boca. Save the date!
Current Sisterhood Board Members
Debbie Baseman -- debbiebase@aol.com 561.379.4914
Sue Freedland -- suef43@gmail.com 561.889.2733
Carole Levine -- jptrcaro@comcast.net 561.339.3909
Maril Levy -- maril@family-levy.com 561.249.6046
Eileen Ogrin -- eileenogrin@gmail.com 561.295.5750
Lois Remick -- lorem47@bellsouth.net 561.627.7736
Sharon Rosen -- sharonrosen@yahoo.com 561.371.3321
Barbara Rosman -- brosman50@gmail.com 617.281.6066
Renee Weisman -- reneelkw@aim.com 914.474.8585
Fri, January 24 2020
27 Tevet 5780
Fri, January 24 2020 27 Tevet 5780